Join TUI DX as a TUI Rep and be part of an international team that works hard to deliver amazing holidays. You are a fast learner with good life and work experience to help with the pressures of living and working abroad. You have the natural desire to talk to guests, solve problems and sell products to achieve demanding targets. 
You have selected a Flexible Contract Position that requires an EU Passport at the time of travel and you may be posted to any one of our 115 destinations. If you live locally or can only work in a specific destination, please check tuigroup.com careers for locally employed positions.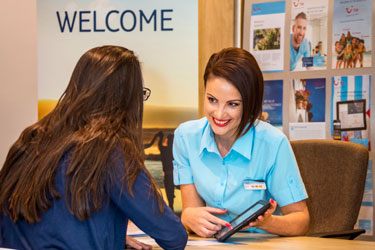 What you will be doing:
Taking full responsibility for anything from 1 to 12 hotels either on your own or as part of a team, providing service for TUI guests from various nationalities
Working long and varied working hours especially at the start of season as you learn all the demands of the job whilst becoming a local expert
Presenting a TUI Welcome to large or small groups and importantly selling on a 121 basis to exceed targets
Using technology and multiple apps on your TUI iPad frequently to check info, log complaints and promote TUI Destination Experiences, excursions and extras
Handling complaining or emotional guests, calming down escalating situations and fully resolving all guests  or hotelier problems on the spot 
In some destinations you may guide excursions, escort airport transfers and work at the airport
What we are looking for:
Having power, perseverance and willing to work long hours are all critical for when situations gets tough
The maturity, life or work experience to handle living and working abroad in any of our 115 destinations 
The experience or natural ability to provide great service plus the initiative to solve problems on the spot
Strong 121 communication and group presentation skills to actively sell to guests
Comfortable with technology and social media
Previous experience of working with people, customer service or a sales environment advantageous
Strong verbal & written Dutch – French - English - additional European languages advantageous 
Driver license B since minimum 1 year
What you can look forward to:
Being a valuable team member of TUI, the No.1 global travel company
We offer a competitive salary and benefits for both flexible and locally contracted employees
Be part of Going for Gold, our TUI DX Commission Scheme that really rewards those exceeding targets
Private Health Insurance is provided along with all visas/work permits and criminal check costs 
TUI Reps are equipped with iPads, return flights, company accommodation & TUI uniform as standard
All training days are fully paid by us – we are proud of our free-to-all global learning and development programme including online language lessons and on-the-job Junior Management Development Programme
TUI DX operate in 115 destinations offering more career opportunities than any other travel company
Working within the TUI Group:
TUI Destination Experiences is part of TUI Group, the world's number one tourism business operating in 180 countries worldwide. Our 66,000 colleagues work hard to deliver our customer promise 'Discover your smile'
Help us to Create Smiles and in return you will be rewarded with a competitive salary and benefits including return flights and accommodation. You will have the opportunity to learn language skills and build an international career as part of our exciting multi-cultural team.
How to apply:
Simply log-in, upload your CV (copy/paste it using a mobile/tablet) or answer 2-3 questions if you do not have your CV available. Successful applications are invited to prepare a video upload and language test if applicable. The final applicants are invited to a TUI DX Experience Day to meet one another.